Southwest Florida Fishing Map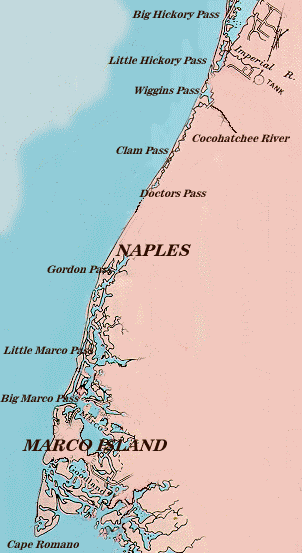 For more detail on our fishing areas, please refer to NOAA Chart #11430 for the backwaters and ISS Chart #09F for offshore hotspots. The latter is particularly helpful in locating the many dozens of wrecks, artificial reefs and fish havens that are within convenient cruising distances from Marco Island. For continuation of this map to the Everglades and 10,000 Islands, Click Here.
During the past 10 - 20 years, inshore commercial netting had negatively impacted our local fishing. In 1995, however, Florida joined an ever-growing list of states to ban the use of entangling nets near the shore. Already there has been a noticeable improvement in the fish populations and the outlook for continuing improvement is excellent.